Two-day Seminar "Internal Auditor": Internal audits: Necessary evil or beneficial ?
Seminar Internal Auditor
The necessary: all management system standards (ISO 13485, ISO 9001 and others) require you to perform internal audits. The standards also require that the internal auditors are adequately trained and competent to perform internal audits.
The beneficial: to detect inefficient processes through internal audits, initialize changes and design processes efficiently and effectively to ensure conformity with the standards - to find and eliminate problems before they become non-conformities in the certification audit.
Learning Goals
This seminar will give you just that knowledge and the skills you need as an internal auditor to conduct an effective internal audit that improves your processes and in which you initiate changes. You will learn to:
create an audit program (annual audit plan) with which you can effectively audit your quality system
prepare each audit individually , set priorities, and ask the right, important questions
carry out audits confidently and to react appropriately even in difficult situations. You manage to get your colleagues on board and win them over for change
document the results of internal audits in conformity with standards so that the audit report is value-adding and meets the requirements of your certifier
evaluate these results (non-conformity - potential for improvement - compliant)
initiate improvements in the form of corrections and corrective actions and track their implementation
about the changes in the latest revision of ISO 19011:2018 (Guidelines for auditing management systems) and align your audit process accordingly
Use internal audits, learn to audit !
Use the potential of internal audits to identify and eliminate weaknesses in your company. Find the problems before the certification auditor finds them. Improve your processes so that they become effective and efficient. Learn to audit!
Target group of the two-day seminar
The seminar "Internal Auditor" is aimed at
Quality Managers
Employees from the quality department,
those who wish to qualify as internal auditors
and those who carry out supplier audits.
Speaker of the seminar "Internal Auditor"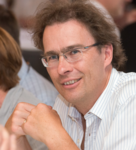 Speaker of the seminar "Internal Auditor" is the lead auditor Alexander Thern
The seminar "internal auditor" is led by Alexander Thern. Alexander holds an advanced university degree in Physics. He is lead auditor for ISO 13485, ISO 9001, MDD 93/42, MDSAP and MDR 2017/745 and knows the auditing of quality management systems from his daily consulting practice. As an auditor he knows exactly which mistakes auditors make during internal audits -- and how to avoid them.

Like the entire Johner Institute, Alexander Thern works to make the vision of lean quality systems come true, which contribute to real quality improvements and to more cost-effective development and production.
When Alexander Thern is not holding a seminar, he - who would have thought it - conducts internal audits and supplier audits for customers of the Johner Institute.
Contents of the seminar
The seminar covers the following topics
Regulatory framework, ISO 13485 requirements for internal audits
Interplay of internal audits with the company's own quality system (SOPs, improvement process, etc.)
Planning and preparation of internal audits (you will learn this by practice)
Derivation of question lists from standards and own SOPs
Conducting audit interviews (this will also be learned by practice). Typical difficulties and how to address them
Documentation and evaluation of audit results
The seminar imparts the contents of "ISO 19011 Auditing of management systems".
The principle of auditing is independent of the type of management system, therefore the ISO 19011 applies for all management systems, whether it be ISO 13485, ISO 9001, ISO 27001, ISO 14001 or also for process audits according to IEC 62304, IEC 62366. It is not the aim of the seminar to convey standard contents, for this purpose we recommend the seminar ISO 13485.
| | |
| --- | --- |
| Time | Topic |
| Day 1, 09:00-10:30 | Introduction, Basics, Definitions |
| Day 1, 10:45-12:30 | Audit program, Preparation of the audit |
| Day 1, 13:30-14:30 | Implementation of the audit, audit discussion |
| Day 1, 14:35-15:30 | Audit transactions |
| Day 1, 15:45-16:30 | Audit findings, final discussion |
| Day 1, 16:45-17:15 | Follow-up of the audit |
| Day 2, 09:00-09:30 | Revision |
| Day 2, 09:30-10:30 | Preparation of the exercise |
| Day 2, 10:45-12:00 | Group 1 Exercise "Performing an internal audit" |
| Day 2, 13:15-14:30 | Group 2 Exercise "Performing an internal audit" |
| Day 2, 14:45-16:00 | Group 3 Exercise "Performing an internal audit" |
| Day 2, 16:15-16:30 | Final Exam |
| Day 2, 16:30-16:45 | Evaluation of the final exam |
| Day 2, 16:45-17:00 | Feedback/ End of seminar |
We limit the number of participants to a maximum of 12 in order to carry out the exercises in small groups. In this way, we ensure that each participant can take home a real audit experience.
Registration
Currently this Seminar is available as Inhouse Seminar only. Please contact our Seminar team for any queries. Also don't hesitate to contact us as individual, we will inform you on any upcoming public trainings.
Feedback from participants
All participants were assisted according to their initial level. The practical exercises were very target-oriented and very well elaborated. The content was conveyed with motivation and joy.