Requesting a Certificate of Free Sale
Certificate of free sale - export certificate - free trade certificate- free sales certificate. There's not even a consensus among the authorities regarding the name. Nevertheless, these "certificates of free sale" are essential for exporting manufacturers.
This article will explain to you when you need a certificate of free sale, who you can get it from and the requirements you have to meet to obtain one.
Certificate of free sale: the background
Marketing in Europe and USA
If a manufacturer in Europe wants to market their product, e.g. their medical device, they must comply with clear rules: For example, they must demonstrate in a conformity assessment procedure that their device meets the basic requirements established by EU directives, for medical devices, the Medical Device Directive (MDD) or MDR, for example. The requirements for marketing a device in the USA are also very clear. You do not need certificate of free sale in these cases.
Marketing in a lot of other countries
A lot of other countries, for example Pakistan or Colombia, permit the marketing of medical devices that have, for example, already been approved for the European market. This means that manufacturers must be able to prove that their device can actually be legally marketed there.
In Germany, for example, you can get this proof in the form of a certificate from the competent authorities, e.g. the regional councils or state offices. These certificates are known as certificates of free sale (CFS), export certificates or free trade certificates, depending on the authority.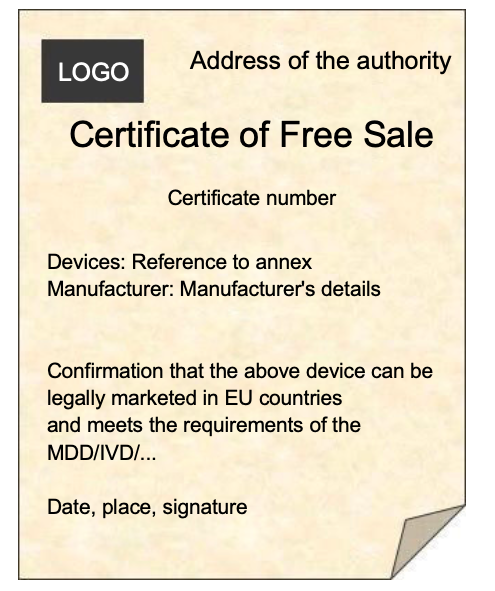 Regulatory background
Obligation of the authorities to issue free trade certificates
The fact that the German authorities are obligated to issue these certificates of free sale (CFS) is regulated by Section 34 of the German Medical Devices Act (MPG) on the "Export of medical devices". There it says:
"Upon application by the manufacturer or its authorized representative, the competent authority shall issue a certificate stating that the medical device in question is marketable in Germany".
The MPG also protects patients outside the EU
In the same paragraph, the MPG states:
"Medical devices which are subject to a prohibition as referred to in Section 4, sub-section 1, may only be exported if the competent authority of the country of destination has authorized the import after having been informed by the competent authority regarding the reasons for the prohibition".
With the reference to Section 4 sub-section 1, it is referring to devices for which
"there are grounds to suspect that the safety and health of patients, users or third persons could be compromised, directly or indirectly, to a degree which exceeds tolerable limits according to medical scientific knowledge when properly operated, maintained and used in accordance with their intended purpose".
In other words, the MPG even prohibits manufacturers from exporting non-conforming devices, unless the importing country explicitly agrees to it.
How to obtain a certificate of free sale / export certificate
Competent authorities
Manufacturers can request a certificate of free sale from their competent authority. Depending on the German federal state, this competent authority could be the regional council, government, a state authority or trade supervisory office.
Companies that have their headquarters outside the EU but are represented by an EU representative in Germany can also apply for an export certificate through these representatives.
Further information
You can see examples of the guidelines for these Certificates of Free Sale here:
Manufacturers generally do not have to fill in a form to apply for certificates of free sale, they can be requested by email, for example.
Required information
The authority needs the following information from the manufacturer before they can issue the certificate of free sale (export certificate):
Details of the manufacturer and their contact
Desired language (except German). The default is generally English
Optional: Details of the recipient country and, if necessary, a recipient (e.g. an authority in that country)
Device or device lists. Unique IDs or article numbers as well as the name of the device (if applicable, in Germany and the destination country) must be specified for a device
EC certificate(s) from the notified bodies (except for class I devices)
Device class and list for IVDs.
Duration and costs
Our own experience in applying for certificates of free sale has been consistently positive. The authorities usually issue them within two weeks. For a single device, the costs are often less than €100, for extensive lists of devices, there are significant discounts.